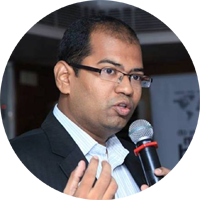 Ananth has over 12 years of experience in the areas of Implementation of Lean Manufacturing concepts, Quality Management, and Supply Chain Management initiatives.
Some of the industries he works/worked with are Textiles, Leather and Footwear, Castings and Forgings, Electronic Equipment, Pump Manufacturing, Fabrication, White goods, Heavy Engineering and Light Engineering sectors.
He works with Industry bodies like CII, FICCI and currently working with International Labour Organization (ILO) for implementing their SCORE Program in a few auto ancillaries in Chennai.
Ananth has authored a book "Level One" which helps people joining manufacturing sector understand the basics of the various functions in a company (Production, Quality, Purchase, Maintenance, etc.) and perform efficiently within a short period of time. This book is a must have in HR functions providing Induction Program for new joinees.
He is also an empaneled Lean Manufacturing Consultant (LMC) with National Productivity Council (NPC) and working on Implementing Lean Manufacturing principles for Small and Medium Enterprises. Earlier he was a consultant with Deloitte`s consulting practice in India and also worked with Titan Industries Ltd, as a Senior Engineer responsible for productivity improvements and various quality initiatives.
He holds PGDM from the IFMR, Chennai and a Bachelors degree in Mechanical Engineering from the Government College of Engineering, Tirunelveli.
View his LinkedIn Profile here