5S simply means work place organisation. It is the foundation for all improvements and lean journey.
As the name describes, 5S is a set of five words starting with S.
1S – SORT – Removing Unwanted items from the workplace
2S – SET IN ORDER – Arrange the necessary items in a specific place
3S – SHINE – Clean the machines, shop floor and inspection -Everyday
4S – STANDARDISE – Establish procedures and schedules to ensure the consistency of implementing the first three 'S' practices.
5S – SUSTAIN – 5 S becomes a culture of organisation. Sustain all the improvements made and continually improve for a better organisation.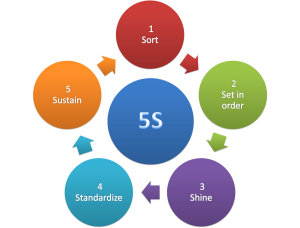 Benefits of implementing 5S are:
Reduced the waste or non value adding activity. (For detailed description of waste, refer our previous blogs by clicking here.)
Improved productivity
Reduced space used for storage
Improved maintenance
Improved safety
Better operator commitment and morale
Improved quality
Better visual management